May 24th, 2013
May 24th, 2013 Meeting:
Speaker:
Samantha Kha
Topic:
What's New with OZ Paphs?
Samantha Kha has been interested in growing plants since she was a small child, when she loved raising flowers and vegetables from seed. Her interest in plants led her to begin exploring cacti and succulent plants. Then, over 15 years ago, she became interested in orchids. Today, Samantha grows orchids and also has a very extensive collection of succulent plants, mainly from South Africa. Samantha became enamored with slipper orchids early on. She has put together an extensive collection of Paphiopedilums and Phragmipediums, primarily focusing on species. She started making Paphiopedilum crosses about 13 years ago, and has raised and flowered many of her own crosses. For the past 10 years she has been making Paphiopedilum crosses for The Orchid Zone, using the Zone's extensive breeding collection. The Orchid Zone is located in the hills of the Monterey Peninsula, and is mostly known for Paphiopedilums. Not as well known is the Zone's cultivation of many other genera as well, including Odontoglossums, Miltoniopsis, Masdevallias, Phragmipediums, and Zygopetalums. Along with enhancing our understanding of orchids, Samantha and Terry Root will provide a unique selection of orchids for the opportunity table. This is a not-to-be-missed presentation! You are also invited to have dinner with the speaker at the California Pizza Kitchen (Hillsdale Mall). We will depart from the Garden Center at 5:30pm sharp. Please be prepared to purchase your own meal. The opportunity table will be provided by The Orchid Zone!
---
April 26th, 2013
April 26th, 2013 Meeting:
Speaker:
Ron Parsons
Topic:
A Close Look at Miniature Orchid Species
Ron is a prolific photographer, writer, and lecturer on orchids and other plants, as well as a highly experienced grower. Ron is considered by many to be one of the finest flower photographers in the United States. His photography and encyclopedic knowledge of orchids is known both nationally and internationally. He has been photographing orchids, wildflowers, and almost every other kind of plant for over 25 years, and has a slide collection that numbers well over 80,000 slides! He went "digital" just over a year ago, and in this short time has taken thousands of photos orchids, wildflowers and other rare plants. See the orchid photogallery at his website http://www.flowershots.net/ for some of his new digital photographs. Ron loves to travel, photograph orchids and wildflowers in situ, visit orchid and other plant enthusiasts' collections, and most of all, to take photographs of plants and flowers that he likes. Not only does Ron photograph plants, but he has been growing orchids, cacti, and bromeliads for over thirty years, and carnivorous plants for ten. He grows an assortment of cool growing species under lights at his home in South San Francisco and a couple hundred more at an unheated greenhouse at his parents home in Burlingame. His collection is beautifully grown, and often the plants featured in his talks are from his own collection. He willingly shares his knowledge about plant habitats and suggestions for culture with all who are interested. Ron is a popular speaker, and gives talks frequently on variety of orchid-related topics, as well as on California wildflowers, cacti and succulents, carnivorous plants, gesneriads and bromeliads. Ron is often asked to present the "show and tell" plants at orchid meetings …he is always full of up to date taxonomic information, culture requirements, and other little known facts about the species and hybrids that members bring in. Ron has published a variety of articles in Orchid Digest and other orchid journals, and has co-authored two books. Ron and Mary Gerritsen are currently finishing up their third book, this one on miniature orchid species. They have been working on it for five years. More information about Ron's photography, writings and background can be found at his website http://www.flowershots.net/ Next board meeting at 6:15PM in the Rose Room on April 26th - just before the meeting.
---
March, 2013
March 22nd, 2013 Meeting:
Speaker:
Tanya Lam
Topic:
How to Grow Orchids in Coconut
Tanya Lam has been growing orchids since 1996. Since then she listened, experimented, and was creative in adjusting her growing methods to provide her orchids with their healthiest root systems, and in turn she enjoys their best performances in flowering. During the first few years of growing orchids, her job required extensive travel, which required her to have good planning and orchid mixes that stay moist exactly 7 days. Tanya created her own mixes to fit her weekly watering schedule and conditions. Her orchid mixes turned out to be outstanding, and she will be sharing her successes using coconut mixes with us. Orchids have become Tanya's obsession and second profession. Tanya enjoys volunteering at orchid events and meeting orchid friends when she travels. Tanya grows many species and hybrids in San Jose, California. Her special interests are both species and hybrids of psychopsis, dendrobium, epidendrum, paphiopedilum, encyclia, cattleya, vandacous, angraecoids, and she is currently exploring many other orchid genera. Tanya likes "showy" orchids and long or frequent blooming orchids. She has always 'wowed' the orchid society members with her beautiful and well-grown plants. Tanya uses 99% rain water, she collects over 4000 gallons of rain water each year, and despite her busy work and travel schedule, she manages to keep her 2000 orchids virus free, pest free, and healthy in 2 greenhouses and a shade house. Tanya belongs to 6 orchid societies in the San Francisco bay area, was the Vice President and is currently the President of Malihini Orchid Society. Wherever she travels, she visits the local orchid society and learns how orchids are grown in different parts of the country. She traveled to see orchids in Northeast Thailand, and wished to travel to see more orchids in different parts of the world.
February, 2013
February 22nd, 2013 Meeting:
Speaker:
Dr. Holger Perner
Topic:
An Armchair Tour of China
Holger Perner is well known for his expertise in Asian orchids, especially Paphiopedilums. He authored a recent series of excellent articles on Paphs and on Cypripediums in Orchids Magazine. (You can find them in our library if you are not an AOS member or if you have misplaced your copy at home.) He and his wife, Wenqing, live and work in China. Mary Gerritsen (past president of POS) has traveled on one of their tours to see orchids in-situ and highly recommends going.
Speaking of tours, the presentation we voted to have at our meeting is "Come with me to Western China - and see the fascinating orchids (An armchair orchid tour with lots of landscape, culture, stories, people and of course orchids)." Coming in a very close second in the voting was his talk on Paphiopedilums. Luckily for us, Holger will be giving his Paph presentation at POE the day after our meeting, at 2 pm, so you don't have to miss out if you wanted to hear that talk also! One of Holger's main interests is orchid conservation. He propagates endangered and newly discovered species and makes them available for sale. This reduces the incentive to over collect orchids from the wild and allows them to survive even if their native habitat is destroyed.
Holger and Wenqing will bring plants to sell at our meeting as well as provide the opportunity table. You can also find them at their booth at the POE.
56th Annual The Show features hundreds of orchids, American Orchid Society Judging, Free Workshops, and orchid sales from the following vendors:
Orchid Design
Brookside Orchids
Cal-Orchid
D & D Flowers
Golden Gate Orchids
Amy & Ken Jacobsen
Napa Valley Orchids
Orchids and Gardens
Paphiness Orchids
Dean Haas
+ Member Sales
---
Peninsula Orchid Society/Golden Gate Cymbidium Growers Joint Meeting & Potluck Dinner and Bingo!

Instead of our regular program this month, we are planning an evening of food and fun with a Holiday Pot Luck and Bingo shared with the Gold Coast Cymbidium Society members, who usually meet on this third Friday of the month. Bring your family, you know, the ones you usually leave at home on Friday night, and plan on having a great time.
Potluck: The Society will provide roasted turkey, ham, coffee and tea. The members and their guests are asked to contribute to the dinner by each bringing a dish to share. Your dish should feed 10 to 12 people. Please bring it ready to serve, including serving utensils.

Early start time this month!
5:30 PM Table set-up (Please bring a full table tablecloth if you can)
6:00 PM Beverage time
6:30 PM Dinner
7:30 PM Bingo
Please note: the show dates are January 26-27 any other dates in this newsletter are in error!
A - H Salad or hot side dish
I - R Dessert
S - Z Appetizer
You should also bring your own plates, eating utensils, napkins, glasses and beverages of choice.

Bingo: After dinner we will enjoy a fast paced game of BINGO led by the comedic bingo calling of Dennis Olivas. Everyone who plays bingo will win at least once. In order to play bingo, each player should bring one orchid or orchid related item to donate to the game prize table. The orchids (disease and pest free please!) or related item should be one you would like to win yourself. If you do not have a plant or related item to bring a $10.00 donation will get you a bingo card. We welcome any additional donations for this evening's fun. The society will also provide some plants from Brookside Orchids in the bingo prizes.
---
November 23rd, 2012,
Cattley Culture for the Novice Grower!
Speaker: Fred Shull
Fred Shull's interest in orchids began as a simple high school project. After some success and a few failures, he wanted to learn more about these rare and beautiful plants. After 40 years he is still in love with Cattleyas. (He used to be in love with Brazilian Laelias, but they are all classified as Cattleyas now!)
An AOS Judge for over 20 years, Fred has also served as Vice President and President of the San Francisco Orchid Society, and has served as a board member of the Peninsula Orchid Society. He supports numerous societies as liaison and introduced many excellent speakers to these societies. Fred loves to travel and has been fortunate to view many orchids growing in their native environment particularly in Brazil, Mexico. He has attended many World Orchid Conferences. Fred grows a variety of genera in the Orchid Family with special interest in the Cattleya alliance. You have no doubt noticed the incredibly beautiful Cattleyas and Laelias he brings for the Show & Tell table. Fred's presentation will be geared to the novice grower, but he will be happy to answer questions from intermediate and advanced growers at the end of his presentation.
Opportunity table:
Our Opportunity Table will be provided by Fred Shull. Expect to have a chance at some wonderful divisions or seedlings.
---
Oct 26th, 2012, Dendrobium cuthbertsonii - Yes, They Can Live and Bloom for Years!
Speaker: Tom Perlite
Tom Perlite is the owner of Golden Gate Orchids in San Francisco and has been growing orchids for the past 35 years. After receiving a degree in Botany from Cal Berkeley, Tom worked at the Rod McLellan Co., and subsequently started Golden Gate Orchids in 1981. Golden Gate Orchids is a wholesale nursery specializing in cool growing orchids including Odontoglossum, Masdevallias, Miltonias, and Dendrobiums. Tom is a retired AOS judge and has received numerous awards including Grand Champion at the Osaka International Orchid Show, the George Moore Medal from the RHS, the Butterworth Prize and 8 FCCs from the AOS. Tom has been a POS member for many years. He will share his knowledge of how to grow the beautiful and jewel colored Dendrobium cuthbertsonii. At the Speaker's Day in Sacramento this year one of Tom's cuthbertsoniis was awarded an FCC (http://www.csnjc.org/Aug2012/dencuthbertsoniibusterFCC.html) and another an AM (http://www.csnjc.org/Aug2012/dencuthbertsoniideeppinkAM.html) by the American Orchid Society (AOS) judges. Your VP asked Tom for this presentation following discussions with several POS advanced growers who have had poor luck with figuring out how to keep their cuthbertsonii alive (as has the VP!). Hopefully we will all have a crack at growing these well as we follow Tom's advice.
Skill Session: We are very fortunate this month to have Chris Mende giving us tips on Phragmipedium culture. Chris is well known at POS (and elsewhere) for the wonderfully grown Phragmipediums and Paphiopedilums that she brings to our Show & Tell table. At our June meeting, which featured an AOS judging demonstration, Chris had her Phragmipedium Susan Decker 'Tiny Jungle' earn an AM award. http://www.aospacificcentral.org/POSAOSJune2012/
---
Sept 29th, 2012 Meeting
Special Event: Peninsula Orchid Society Annual Auction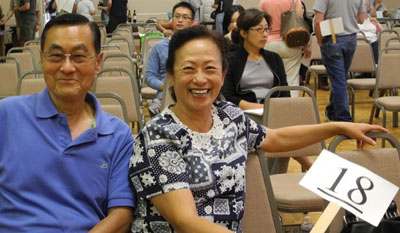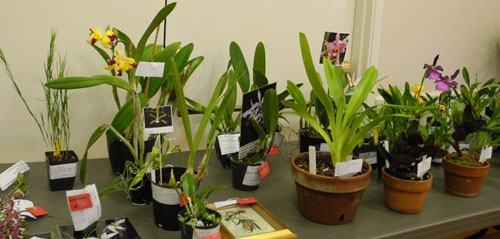 Open to the public! Many orchids to choose from!
---
August 24th, 2012 Meeting
Speaker: Mary Gerritsen
Title: Ascent to Mount Roraima: Orchids and Carnivorous plants in the Lost World
Mount Roraima is a plateau in South America straddling the border of Brazil, Venezuela and Guyana and was the inspiration for the location of the Pixar movie Up. Mary Gerritsen, Ph.D. is an independent biotechnology consultant who has been growing orchids (mostly species) on and off for more than 30 years, and since relocating to the San Francisco Bay area in 1997 started to amass a collection of small cool growing miniature species such as Masdevallias, Porroglossums, Lepanthes and other assorted tiny gems. She also has a second intermediate greenhouse, filled with larger species such as Angraecoids, Dendrobiums, Oncidiums, Laelias, Phalaenopsis and Bulbophyllums. She loves to see orchids growing in situ, and has made it her mission over the last few years to see as many as possible, with trips to see and photograph orchids (and other flora as well) in Canada, various states in the USA, Mexico, Ecuador, Peru, Costa Rica, Panama, Brazil, China, Germany, Rhodes and Crete, Australia and most recently, Borneo. She is the co-author of two botanical books: Masdevallias, Gems of the Orchid World, and Calochortus, Mariposa Lilies and their Relatives, with fellow Peninsula Orchid Society Member and well known photographer, Ron Parsons. Mary is now working on a third book "Miniature Orchids" with Ron Parsons. In addition to being a member and past president of the Peninsula Orchid Society she is a member of the Pleurothallid Alliance.. She is currently the president of the San Francisco Orchid Society. Opportunity table provided by Mary Gerritsen.
---
July 28th, 2012, The Orchid Whisperer Speaker: Bruce Rogers
Our speaker for July will be Bruce Rogers. Bruce has always had a passion for the plant kingdom, growing plants as a hobbyist from an early age. He began his professional work with orchids in the late seventies when he was hired by the City of Atlanta Parks Department to work with their orchids in the greenhouses in Piedmont Park. Returning to San Francisco after this very successful endeavor, he was promptly hired by the Rod McLellan Company with two functions: head grower for their boarding department and to work on Vanda hybridization. At that time, Rod McLellan was major force in the orchid world and the association with this company led to many great opportunities. In the early eighties Bruce left to start Bruce Rogers Orchids, a orchid consulting and management company, and a few years later, Rogers-Fishman Boarding, an orchid boarding company in San Francisco. In the commercial world, he has consulted and worked with major companies, department stores, and civic groups both nationally and internationally. In the private sector he as had the opportunity to work with many interesting and influential people. He has designed and created Orchid Gardens in private homes from Marin to Santa Barbara. Bruce has been growing and hybridizing Sobralias for many years.
In 2002 Bruce, with Terry Root (well known as owner of the Orchid Zone) teamed up to form Oz Gardens, a wholesale nursery specializing in Sobralias. Their work has led to a wider selection of Sobralia for different climate zones, and an expanded blooming season. Sobralias are giants of the Orchid World in both size of plant and flower. Sobralias can be a fantastic plant suitable outside culture in the Bay Area. Growing superbly in both pots and beds in the garden, they bloom easily in the late spring to early fall. Few orchids approach the beauty and allurement of Sobralias. Bruce will speak on his favorite subjects, his new book, The Orchid Whisperer and on new Sobralia Hybrids.

He may also share some stories from his recent travels to Xcalak. Bruce will be supplying a fabulous opportunity table for the meeting,. Bruces' new book, The Orchid Whisperer is especially written for the novice orchid grower. He will be bringing some copies to sell and sign.
Link to information on growing sobralias: http://brucerogersorchids.com/uploads/GrowingSobralias.pdf
Link to Bruce talking about his book on YouTube theorchidwhisperer.com
Link to Oz Gardens: ozgardens.com
Bruce will supply the opportunity table. I will let you know about the skill session. Either Ken on virus testing or me or Dennis on repotting.